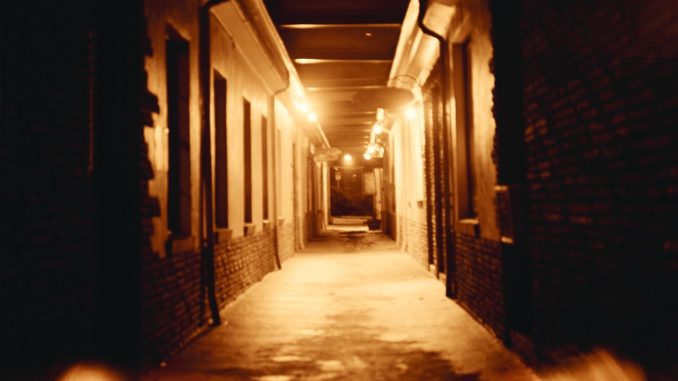 By: Rebecca LaPole
Voices on radio help us navigate traffic, warn us of incoming weather, tell us who won the game, and keep us entertained during our commute. These same voices can also command our attention in person when introducing bands, the next lovely lady to grace the stage, or informing us about goings-on around town. Six of Fort Collins' most unique and well-known voices took the time to answer a few questions; giving us a sneak peek into their lives beyond the radio waves and how they shape our local music scene.
Support Northern Colorado Journalism
Show your support for North Forty News by helping us produce more content. It's a kind and simple gesture that will help us continue to bring more content to you.
BONUS - Donors get a link in their receipt to sign up for our once-per-week instant text messaging alert. Get your e-copy of North Forty News the moment it is released!
Click to Donate
Chris K. is the producer and host of The Colorado Sound, a radio show that started on KRFC in 2006 and went independent four years later. The "goat," as he is also known, has been on the air since August 1978. His favorite part of being heard in our City is, "That I get to be the voice for every musician who's ever dreamed of being on the radio." If his career path had been different, he could picture himself, "running a music venue and producing shows." Chris K.'s unique perspective is, "I've been doing this for just about longer than anyone around. I've been playing music locally since the '70s and have been playing local musicians on the air since the late '80s." He has respect for, "anyone and everyone who gets up on a stage and shares their soul with us via music."
Kama McDonald has always been outspoken. Her personal plea is, "Hey promoters! Moms want to see live shows. We cannot stay out late. We will buy drinks. We will dance. We will have fun. But the music must start early and end early. With that said, I don't get to see many live shows now that I have three small kids. But when I do, I want it to be fun and lively. I love Von Stomper and Blue Grama for their talent, harmonies and energy." She's been a local voice for "12 really fun years and counting, on the radio in NoCo, as well as hosting tons of local events. Most of that time was with 99.9 in it's many different forms through the years and now I'm having fun at TRI-102.5." Kama loves Fort Collins because here, "Happy is a priority, where as other places, just surviving is a priority. We are lucky to be surrounded with so many choices for joy and I get to connect this awesome community and play fun music for your workday." In response to the question of alternate careers, Kama replied, "I would own a bakery (have you tried my chocolate zucchini bread?) or I would have an artsy/farm/wine community life going on in a small town in the Four Corners area." Kama's perspective: "I love the saying 'music is the sound of life.' I like finding out what songs really get people into a different head space. Happy, sad, dirty, groovin', we all have a song. I have spent most of my career and personal life with musicians and song writers. I respect the sacrifice that goes into everything on stage and behind the scenes at any level and for any genre of music. I believe the music thrives here, because the support is here for creativity and following your dreams. Again, we live in a really great place!"
Paul Wozniak has been on the air in Fort Collins since 2002. On 99.9 until September 2007, and on TRI 102.5 since then. His favorite part is, "Covering the events, people and occurrences in my town. I live here, work here and am employed by a company (Townsquare Media) that encourages me to focus on local topics. As a person who plays music that is vetted by the record labels, I bring an awareness of what it would take for local bands to make a big splash on the radio." Paul is also a DJ and an author of, "Stranded in a Snowstorm, Morgan James Publishing, Juvenile Fiction. If I were doing something completely different it would be something like a first responder (cop, firefighter, paramedic), the owner of a yoga business, or a farmer." He likes "Mama Lenny and the Remedy, the Yawpers, Fierce Bad Rabbit, and the guy who plays Willie Nelson on the corner in Old Town."
Troy Lepper, Ph.D. has been a voice in Fort Collins since KRFC came on the air. "Voodoo Soup was one of the first shows chosen back in 2003, and it has aired ever since. I actually started Voodoo Soup in Columbia, Missouri in the mid-90s on KCOU (college) and KOPN (community) radio, then I brought it along with me when I came to Fort Collins to do my Ph.D. in Sociology at CSU. Back then we didn't have KRFC, but shortly after my arrival there was a call for radio personalities and shows, so I submitted my show proposal and off we went." Troy's favorite part of being on air is, "actually my reason for creating Voodoo Soup in the first place. At a time when I was lost, I went to New Orleans for a visit with a friend and found myself. The music woke me up in a way that I never thought possible. For the first time I was able to let go to the music, and that … made all the difference. So when I came back home I set about getting a radio show to pay homage to the bands that opened my eyes. Voodoo Soup allowed me to bring the funk to my community and to bring myself to the funk. All I ever wanted to do was to let other people know about that funky feeling you get when you can let go to some good ol' funky music, and what better place to do that than Fort Funk. I love this town, and I just want to represent, and I think Voodoo Soup does just that." If Troy wasn't on the air, "I guess I would still be coaching girls soccer, playing soccer, hangin' with my peeps, … and of course getting out and about to listen to live music in my favorite music scene." The unique perspective of Voodoo Soup, other than getting funky, Troy says is that it "has encouraged the involvement of numerous radio personalities, each of which brings their own particular flair to roots and funk, creating a gumbo of funky sounds that stretch the mind as well as the booty." Some of the local bands he's been diggin' on are the Motet, Aire's Attic, the Constitution, Ginger Whale, Mama Lenny and many others. Troy says, "We are blessed with a great music scene here in Fort Collins, so whatever you find yourself out listening to is usually great."
Tad Loader, the announcer at Avogadro's Number for well over a decade, has a deep, booming and highly entertaining voice. "My introduction to voice work was organic and locally grown," Tad begins. "It all started by answering the phones for the family businesses, whether it be for Coffee Craze, Mountain Breeze Ballooning, or Jewels of the Nile, I had to speak with professionalism and clarity at an early age. My dad, Mark Loader, is a story-telling mountain man, and almost anyone who grew up here has heard the stories told by Roadkill. My mom, Cindy Loader of Jewels of the Nile belly dancing, recruited me to announce for her dance troupe when I was in my teens. I learned a lot from those experiences; but you'll have to ask me about that in person. As a student at CSU, I made extra money doing voice overs for radio commercials and had a radio show with my dog: The Tad & Kovic show. We had some fun and popular listener call in segments, like the Cartoon Fantasy Date Polls… Aeon Flux, Danger Prone Dafney, and Betty Rubble. They were all consistent winners. Believe it or not, after Wolfman Jack died, I had a good time impersonating him to broadcast Less Than Live from Purgatory with the best of the belated bands and their members. Thanks to Courtney Love, we played much Nirvana during that time. My co-host Kovic (The Amazing Black Lab Wonder Dog) answered to hand signals, so I could interview him and interpret his answers during the shows. Needless to say, Kovic made numerous jokes about bitches and chasing tail." Tad continues with his tongue in cheek explanation of his past, "Years later, I gave in to the requests of dancer friends to take a job as deejay and announcer at a local gentleman's club until someone made a very Christianly decision to put a bunch of single moms out of work and stop payment on our checks." At Avo's, Tad has "had the privilege of announcing for great talent from across the country, as well as locals who are now nationally touring acts that got their start on this same stage. Danielle Ate the Sandwich and  Maxwell Hughes are just a couple of my faves, and no less love for the rest of you." Tad wants you to know, "If I ever lose my voice, I will use my degree (Political Science and Liberal Arts with an emphasis in Education from CSU), turn to the dark side, and become a lobbyist for Monsanto and infiltrate the enemy."
John Glover KCSU DJ "G-Love" started working for KCSU in the Summer of 2014. He says, "I met the station manager, ran the board a couple of times, did some on air speaking, and I knew I had to get involved. Fort Collins has a lot of unique perspectives and I feel like the station has a varied fan base. Some of my favorite moments in my show are when a listener calls in and says, 'Hey, I like what you're putting down, but check out ____' and they'll show me this awesome band I had never heard of before!" John says if he wasn't on the air, "I'd be outside! Trail running, mountain biking, swimming, climbing, hiking, and ultimate frisbee are some of my favorite things to do! I'd still be listening to music all the time, probably while reading a good book. Oh yeah, and studying and stuff too.." Because Fort Collins has such an avid music scene, John says, "I try to delve into as many genres as I can in a show while still maintaining and natural ebb and flow of pace, intensity, etc. of the songs. The listeners want to know what they're listening to, so I like to highlight some elements of the song that really stand out to me. If there's a guitar solo coming, I don't want the listeners to miss it! DJ G-Love's "Good Show" is all about discovery and entertainment, baby!"
Stacy Nick has been around the block in FoCo for as long as I can remember, although her new arts reporter status at KUNC is less than a year old. She says, "I've been a "voice" for Colorado arts for more than 15 years, covering local music, visual and performing arts." She likes being a voice in Fort Collins because, "It always amazes me how many people still don't know about the great arts scene in Fort Collins, so being able to clue them in on it is really exciting." Stacy says, "I know this sounds like a cop out but, honestly, I can't imagine doing anything else. Last year I found myself at an unexpected career crossroads and it was very difficult even thinking about taking a different path. I feel incredibly lucky to be at KUNC where I can do what I love."
"I think my very broad love for all types of music works pretty well with Fort Collins' current musical evolution. The scene may have started with only a few genres represented, but over the years it has truly blossomed to include amazing artists in just about every possible style." Asked about some of her favorite local artists, Stacy says, "I try really hard not to play favorites, but right now there are some Northern Colorado acts that are pretty poised for something big. Danielle Ate the Sandwich, SHEL, The Burroughs, and In the Whale all have a lot going on right now. And Denver's Nathaniel Rateliff isn't doing so bad for himself, either."
DJ's from iHeartRadio and Loudwire were not available to contribute their voices to this story.
For more information about the voices heard here see below:
Chris K.: HYPERLINK "http://www.live365.com/stations/thecoloradosound"live365.com/stations/thecoloradosound or Facebook.com/The-Colorado-Sound.
Kama McDonald: weekdays from 10am-3pm on TRI-102.5. She also blogs at HYPERLINK "http://www.tri1025.com/" \n _blankTRI1025.com.
Paul Wozniak: weekdays from 5-10am on TRI-102.5, HYPERLINK "http://www.tri1025.com/" \n _blankTRI1025.com, paulwozniak.com.
Troy Lepper: Voodoo Soup on KRFC 88.9 FM, Tuesdays from 10pm-midnight, KRFCfm.org
Tad Loader: Go to Avogadro's Number
John Glover/DJ "G-Love": The Good Show on KCSU 90.5 FM, Sundays from 1-3pm, kcsufm.com
Stacy Nick: KUNC 91.5 FM, kunc.org/people/stacy-nick