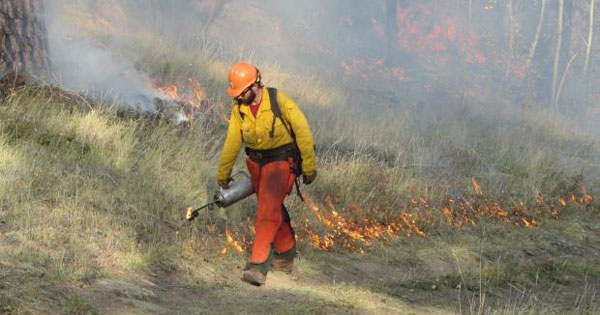 Marjie Brown
ScienceFire Solutions
Radios crackle with communications. Men and women in fire-resistant yellow shirts and green trousers dot the land, eyes on each other and the treetops, watching for a breeze. Gloved hands tip red tank torches downward, dripping liquid fire to the ground. Slowly walking back and forth they weave threads of flame in a precise pattern determined well in advance of this day. Like mowing a lawn with the utmost care, fire is reintroduced to the land.
These are the sights and sounds of prescribed fire. Fire is an age-old companion of our Northern Colorado forests. Low-intensity fires rhythmically burned across the land every fifteen to fifty-five years for many centuries before we started putting them all out. These fires served as the forest's waste management system preventing overgrowth and accumulation of flammable vegetation. They helped native plants and animals reliant on habitats regularly refreshed and fed by fire's restorative footprint. Today, prescribed fire reactivates that original relationship between low-intensity flames and forest health. They reduce the amount of fuel available for wildfires to feed on. When wildfires burn into a site that's been treated with prescribed fire they typically cause less damage, are easier to control, and are safer for firefighters.
If you're a resident or frequent visitor in Northern Colorado you've likely caught glimpses of fire crews working hard to protect life and property from wildfires like the High Park and Hewlett Gulch Fires of 2012. When wildfire season tapers off, typically between late fall through spring, many of those same firefighters return to serve on prescribed fire crews. They come from all walks of life, working for a myriad of different entities who team up to put these restorative fires on the ground.  Locally, prescribed fire crews may be made up of staff from the Poudre Fire Authority, US Forest Service, Colorado Division of Fire Prevention and Control, The Nature Conservancy, Larimer County and local fire protection districts. Prescribed fires are science-based endeavors requiring shared skills, secure protocols, a spirit of collaboration, and serious planning.
The moment a prescribed fire is ignited is just the tip of an unseen iceberg of research, partnership, and preparation, stretching back months or years before drip torches are lit. The exhaustive fact-finding process and the "Burn Plan" it informs anchor all prescribed fires.  Once a burn unit is identified it becomes a laboratory of analysis so that strategic restoration goals for the fire can be set. Examples of short-term goals might include a reduction in organic litter depth and removal of dead branches on the forest floor. Long-term goals might include getting rid of invasive plant species or doubling the width of fire breaks.
Inventories are often performed on water quality, soil composition, and wildlife populations. Trees, their sizes and the spaces between them are measured and mapped. Burn Plans include specific conditions for temperature, humidity, wind speeds and direction that must be met in order for the burn to take place. The time and location of ignition, fire duration, and acres to be burned are explicitly spelled out. Quantity and location of personnel and equipment are carefully choreographed to optimize safety and success. Smoke and air quality are measured before and during the fire and efforts are made to minimize impacts on communities. Plans also include actions for after the flames have finished their job. These include clean up, monitoring of the fire's effects on the land and measuring everything again to determine whether goals were met.
The number one priority for planners is always the safety of firefighters and the public. Mindfulness of nearby communities and infrastructure are cornerstones of Burn Plans. This commitment to safety has contributed to the steady reduction of prescribed fire escapes over the last two decades. As of 2016, these events have dropped to approximately two out of every thousand prescribed fires nationally – the clear majority having no negative impact on the forests and communities where they took place.
Prescribed fires deliver wins for all as we reckon with the threat of the 21st-century wildfires we already know too well. The next time you have an opportunity to throw some gratitude to a firefighter, be sure to add in thanks for the work they do behind the scenes to make our cherished forests more resilient.
Interested in volunteering on a forest restoration project? Contact weston@poudrewatershed for opportunities this fall.
The Coalition for the Poudre River Watershed is a local non-profit whose mission is to improve and maintain the ecological health of the Poudre River watershed through community collaboration. For more information visit www.poudrewatershed.org or email jenk@poudrewatershed.org
Did you like what you just read?
Show your support for Local Journalism by helping us do more of it. It's a kind and simple gesture that will help us continue to bring stories like this to you.
Click to Donate